Hi everyone! As we prepare for our end-of-the-year performances, we know a lot of questions may arise. If anyone is uncertain about any information, please feel free to call or text us at our number listed below. Our staff is here to assist you!

If you will not be joining us for summer classes, we hope you have a wonderful summer and we look
forward to seeing you in fall for the start of our 19th year! Thank you for being a part of APA this past
season and making it a great year! The studio will have limited office hours during the summer. Please
call us at (414) 768-0101. If texting is your preferred method, please opt-in by texting "APA" to 414-240-8458. After you have opted in, feel free to text us your questions.

Good luck to all of our performers!
Summer REGISTRATION IS OPEN!
Most of our Summer classes are 6-weeks long, but we also have some 3-day Dance Camp options (select dates in JUNE & July), 4-week Adult Yoga, and "The Little Mermaid Jr." musical. Register early, so there's less chance of your class being full, or canceled due to low enrollment. We will start to cancel classes with low enrollment by mid-June, so make sure to register early as our schedule could change!
Our preferred method for registration is using your APA portal so you can complete everything in full.
September Classes start Tuesday, September 5th!
REGISTER NOW!
Registration is OPEN and some of our prime-time classes are almost full! When registering you will be charged your $30 yearly membership fee p/p ($40 max. per family ) and September's tuition.
NEW ADULT YOGA & HIP HOP HAVE BEEN ADDED!
+The Fall Musical: Elf Jr!
*The Fall Musical is not charged a membership fee!*
Our preferred method for registration is using your APA portal so you can complete everything in full.
Audition for "The Little Mermaid" - 2023 Official Summer Musical!
In a magical kingdom fathoms below, the beautiful young mermaid Ariel longs to leave her ocean home to live in the world above. But first, she'll have to defy her father, King Triton, make a deal with the evil sea witch, Ursula, and convince Prince Eric that she's the girl with the enchanting voice. Adapted from Disney's 2008 Broadway production, Disney's The Little Mermaid JR. features the hit songs such as "Part of Your World," "She's in Love," and the Oscar®-winning "Under the Sea."
Auditions are June 19th in Oak Creek. Callbacks June 20th, 2023. Click below for performance dates and to register!
Announcing the Official Fall Winter Musical: Elf Jr!
Based on the beloved holiday film, this hilarious fish-out-of-water comedy follows Buddy the Elf in his quest to find his true identity. This modern-day holiday classic is sure to make every young performer embrace his or her "inner elf" with plenty of large ensemble numbers featuring elves and (New Yorkers) of every type.
The performance in December will be sure to get everyone in the holiday spirit! 
Auditions are August 21st in Franklin. Callbacks August 22nd. Click below for rehearsal dates, and to register!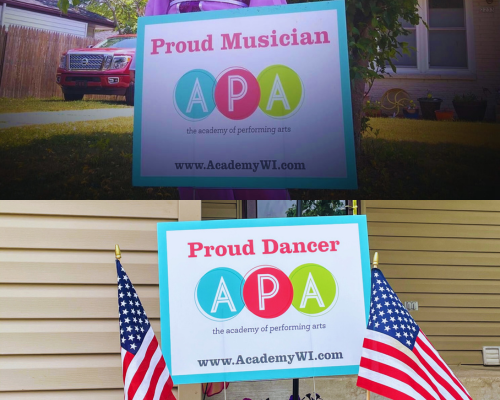 Grab a yard sign from the lobby at either location and place it in your yard, THEN take a photo and share it to your Facebook or Instagram with the hashtag #APAproud! 
We will pick a random winner each month who will receive a $50 tuition credit. Winners are announced on our social platforms, and we'll contact you on your post! First come, first serve!
Automatic Withdrawals
Automatic withdrawals for tuition will stop after May 15th unless you sign up for our fall session.
Want to see future dates @ APA? Check out our APA Calendar!
Music Student T-shirt/Medal Pick-Up:
T-shirts and medals are available for pick-up at our music recitals.  Students will receive these back-stage. Any 5 or 10-year students – your trophy will be handed out at the recital. If your student will not be in the recital, please respond to this email so we can set up a time for pick-up.
On May 15th all private music students will be charged for 1 or 2 June music lessons. Our last music lessons will be on Monday, June 12th.
Some students will have makeup lessons scheduled past this date, so please discuss this directly with your teacher.
Fall Group Music/Theatre Classes:
We are offering several group Music & Theatre classes (Tiny Tunes, Drama Jr, Music Jr, Glee Pop Choir, Musical Theatre, & Drama Club).  For more information on our new group music classes and to register, please click below!
Upcoming APA Theatre Dept Musicals:
Please click HERE to see all of our upcoming performance information, including how to sign up for our summer and fall musicals, "The Little Mermaid" and "Elf Jr"!
Cheer on our student performers at:
"PUFFS, OR: SEVEN INCREASINGLY EVENTFUL YEARS AT A CERTAIN SCHOOL OF MAGIC AND MAGIC" 
| An APA Drama Club, Spring Session Project!
Puffs tickets ON SALE NOW HERE
MUSIC LESSON MAKEUP POLICY​
Private music lessons follow a different make-up policy than group classes.
Please click HERE to view the makeup policy.
Recital Dates: Saturday, June 3rd at the Franklin Saber Center. Our recitals include multiple acts, with each act lasting about 1.5 hours. To view all of our recital FAQs click HERE.
Spring Music Recital Tickets: To purchase visit https://www.danceticketing.com/29869/.  
Do you have siblings in different recitals? Because of the inconvenience, APA will offer families who have siblings in different recital acts, 4 free tickets to your second show time. We will put a credit in your APA account for the value of 4 free tickets ($40) to deduct off future tuition. APA has over 250 musicians performing with multiple siblings so it can be difficult to schedule all siblings together. Please email us if your siblings are not in the same show so we can verify and add the credit to your account
Text Messaging:
In order to better relay important information to you, specifically for weather-related emergencies, please opt-in to receive text messages. You'll also be the first to know about events and special offers! Text APA to 414-240-8458.
License Plate Winner:
Congrats to license plate ADX-8917! One of our staff members spotted your APA window sticker while driving!  Please contact the front desk so we know who you are and you will receive a $50 tuition credit.  To participate, grab a FREE APA window sticker at the desk!
Member Accounts:
There is a Member Log-in area on our website www.academywi.com where you can see what your account has been charged, enroll in classes, etc. Every family has their own account.  Your username is the email address you gave us. If you need to update your email address, please contact us.
Facebook & Instagram: Interact with APA on social media!
We have fun contests, photos from classes, and more on both our Facebook and Instagram pages. Click here to join us on Facebook and here to follow us on Instagram!
Referral Program:  
Share us with a friend!  When a new family registers and mentions your name, EACH of you will receive a $50 tuition voucher. The voucher will be mailed out after 2 months of paid enrollment, and there is no limit to the number of families you can refer to APA.