Hi Everyone!! We hope you had a great summer!  We are so excited that you will be joining us for our 19th year! Dance, Music, & Theatre classes start the week of Tuesday, September 5th. We want you to settle into your classes as soon as possible. If you feel you are not in the appropriate class based on skill level, style, instrument, etc., please let us know! As long as there is an opening, we can transfer you to your desired class, or you can add on additional classes. Our first priority is to make sure you are in the right class and are enjoying yourself!
Got Sneakers Donation Project:
Does anyone have any used sneakers they are looking to donate? APA will be collecting used sneakers to get recycled and in return, we earn money for every pair.  Based on the shoe's condition, it is anywhere from $1 up to $7 per pair of shoes. To view more information on this program please visit https://gotsneakers.com/compensation-and-footwear-guidelines/. Funds that are earned will go towards any APA props that are needed whether it is for our competitive dancers or theater groups.  Please note this is not an individual fundraiser unlike many of our other fundraisers offered. 
We kindly ask you not to send any non-athletic footwear including but not limited to dress shoes, heels, rain boots, sandals, slip-ons, water socks, wedges, and work boots of any kind. 
Drop Off Dates to APA front desk staff:  8/24 – 9/16
Optional APA Kringle Fundraiser:
Earn money for your APA tuition or attire! Your profit earned goes into your individual APA account and will not expire! Our Racine Danish Kringle Fundraiser form will be handed out in the studios this week. It is due Monday, October 2nd. If you are interested, you may start selling right away! The cost to purchase a Kringle is $11 and you will earn $2.50 per Kringle sold. 
Order Form Due: Monday, October 2nd. Wherever you drop off your form is where you need to pick up your orders! 
Pick Up Date @ Franklin – Thursday, October 19th 3pm-6:30pm 
Pick Up Date @ Oak Creek – Friday, October 20th 3pm-6:30pm
Get you Limited Edition APA Halloween shirt! If anyone is interested in purchasing our NEW APA dance and/or music t-shirts for Halloween, please click below to check out our cute skeleton designs. 
Orders are due by Monday, September 18th!
Girl Scout Troops can earn their dance or music badge at APA!!! Is your student, or someone you know, apart of a Girl Scout Troop looking for fun group activites and new bages to earn? Troops can earn their dance or music badge by participating in an hour-long sampler dance class or music class! Click the link below to share or sign up!
Payments will occur on the 15th of every month starting with September 15th for your October tuition payment. Your last payment will be on May 15th. Please remember we do not prorate tuition for months with fewer classes. This is a 10-month program that we divide into 10 equal payments no matter how many classes there are in a month. Private lessons are charged per lesson in a month.
Grab a yard sign from the lobby at either location and place it in your yard, THEN take a photo and share it to your Facebook or Instagram with the hashtag #APAproud!
We will pick a random winner each month who will receive a $50 tuition credit. Winners are announced on our social platforms, and we'll contact you on your post! First come, first serve.
Our monthly newsletter is emailed to APA families at the beginning of every month. It is also posted on our website at www.academywi.com/newsletters. Paper copies are available by request only at our front desk. IF you previously opted out of receiving any of our emails, you will NOT receive any new emails from us – including the newsletter. If you need assistance in opting back in to receive our emails, please contact our front desk.
Want to see future dates @ APA? Check out our APA Calendar!
Text Messaging:
In order to better relay important information to you, specifically for weather-related emergencies, please opt-in to receive text messages. You'll also be the first to know about events and special offers! Text "APA" to 414-240-8458.
License Plate Winner:
Congrats to license plate ALR-5749. One of our staff members spotted your APA window sticker while driving!  Please contact the front desk so we know who you are and you will receive a $50 tuition credit.  To participate, grab a FREE APA window sticker at the desk!
Member Accounts:
There is a Member Log-in area on our website www.academywi.com where you can see what your account has been charged, enroll in classes, etc. Every family has their own account.  Your username is the email address you gave us. If you need to update your email address, please contact us.
Facebook & Instagram: Interact with APA on social media!
We have fun contests, photos from classes, and more on both our Facebook and Instagram pages. Click here to join us on Facebook and here to follow us on Instagram!
Referral Program:  
Share us with a friend! When a new family registers and mentions your name, you will EACH receive a $50 tuition credit. The credit will be automatically put into your APA account after the new family has paid for 2 months of enrollment. There is no limit to the number of families you can refer to APA!
Students enrolled in Poms classes are required to purchase their own poms to take to and from class for practice and also to perform in our recital. A set of poms is $30 – they may reuse poms from the previous year. To place an order, please see our front desk.
Dance Student Assistants:
You may notice a student assistant, along with the instructor, in our younger classes. Larger classes will have a student assistant helping the instructor and the students. Our student assistants are ages 10 and older. We would like to thank all of our assistants for committing to this schedule for this year!
Dance Costumes Charged Wednesday, September 27th:
Dancers will automatically be charged for costumes for our recitals on Wednesday, September 27th using your account on file.  If your student will NOT be participating in our winter or spring showcase, please let us know by Monday, September 25th.  If you decide to order a costume at a later date, it is your responsibility to see our front desk to order this, if it is still available.  Please do not delay ordering. Recreational costumes will be available to view online by October.  The same costume will be used for both winter and spring.
Classes/Students NOT charged on 9/27:
Parent/Tot: These classes only perform in our Spring Showcase and payments for those who wish to participate will be due in February. 
Acro:  Only performs in our Spring Showcase and payments will be due in February. 
Boys: (excluding Boys ONLY Hip Hop in Franklin)  Boys who are in co-ed classes will be notified of your costume requirement and price. 
***If you are new to APA and would like additional information on how our shows work, please check out this document.
Our Winter Showcase will be held on Saturday, December 16th at the Oak Creek Performing Arts Center. Showcase times will be available in October.
Our Spring Showcase will be on Friday, June 14th, and Saturday, June 15th.
Little Mermaid Jr. Musical Summer Performance:
Congratulations to all 24 students that had a successful and IMPRESSIVE performance of The Little Mermaid Jr in August!  Cast members included APA musicians, dancers, and brand new performers and students!  We can't wait to see our next musical Elf Jr. in December!
Music Performance at Franklin Movie Night: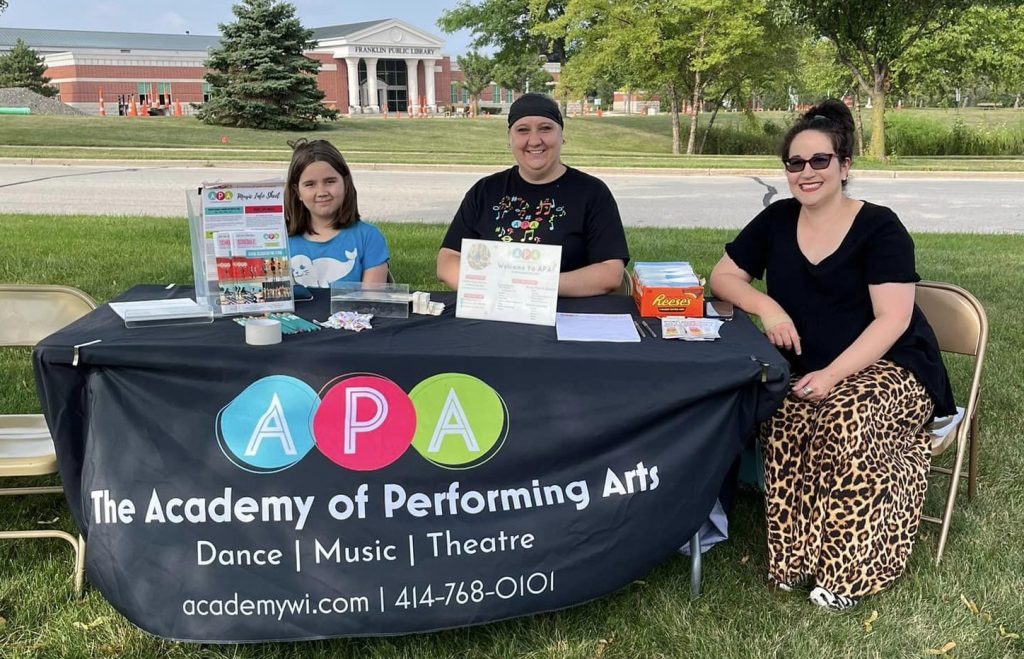 Thank you to our extremely talented APA vocalists (Isabella Zakrzewski, Ivylynn Nivongsa, Macy Hall, and Sloane Langenfeld) that performed at Franklin Movie Night on August 5th!  – you all did an AMAZING job!
WINTER Date Change!
Please mark your calendars for Saturday, December 9th and Saturday, June 1st for our optional winter and spring music recitals at the Franklin Saber Center.   The exact times will be decided closer to the recital dates. Tickets will go on sale in November.  ***The Franklin Saber Center originally gave us a different date for the winter recital and had to recently change to this new date.  Our online calendars are updated but please note this date change.
**Please note: Recital and other important APA dates, including when we are closed for holidays, can all be found on the APA calendar.
Music Lesson Makeup Policy / Snow Days:
Please make sure to read over APA's music lesson makeup policy / snow days so you are informed before the start of our fall semester (9/5).  Please click HERE to view the makeup policy.
Please remember that music lessons are charged each month for the amount of lessons scheduled for the month.  For example, if your regular lesson is on Monday, and there are only 3 Mondays in the month you are only charged for 3; if there are 5 Mondays in the month, you are charged for 5.
When it is time to purchase music books for your private lesson, APA offers 2 easy options:
1.) We order your books for you. Your teacher will put in your book order through our music department. You will be charged a $3 service fee for this option.
2.) You can purchase books through another site or store of your choosing. 
We can't wait to start this season with you!