Happy May APA families!! As we near our spring performances and the end of our current session, we are already planning ahead for next year. At the end of every spring session, we send out a survey after all of our performances are over. This is a great way for you to leave us any feedback. We love to hear everything… good, bad, etc. It is great to hear about things you love, so we know to keep doing them, and it is crucial we hear about things you wish we would change. We personally read every survey and share them with our staff. The ultimate goal is to make APA better for our families every year! We appreciate you taking the time to let us know your thoughts.  
We know that many questions pop up at this time of year, so please do not hesitate to call, email, or stop in! If texting is your preferred method, please opt-in by texting "APA" to 414-240-8458. After you have opted in, feel free to text us your questions. We are here to help!
Summer REGISTRATION IS OPEN!
Our preferred method for registration is using your APA portal so you can complete everything in full.  Most of our Summer classes are 6-weeks long, but we also have some 3-day Dance Camp options (select dates in JUNE & July), 4-week Adult Yoga, and "The Little Mermaid Jr." musical. Register early, so there's less chance of your class being full, or canceled due to low enrollment. We will start to cancel classes with low enrollment by mid-June, so make sure to register early as our schedule could change.
Summer EARLY BIRD Savings!
Register for any of our GROUP classes that are at least 6-weeks long and get rewarded! TODAY (May 1st) is the last day to receive our $25 off each group class special.  Register online between May 2nd – May 31st to receive $15 off each group class.   Prices online include our discount when registering through your APA portal.
*Offer is valid for any classes at least 6-weeks long including "The Little Mermaid" musical.
Fall Registration for the 2023-2024 Session is OPEN!
+ *Dance* Priority Registration/September Savings!
Register for our September dance classes early and take advantage of our sales below based upon your registration date.  Our preferred method for registration is using your APA portal so you can complete everything in full.  
May 1st-May 10th Special – PROMO CODE:  20OFF:  Priority seat/ticket selection for our Winter 2023 & Spring 2024 dance showcases (next school year session) & 20% off September Only Group Dance Classes (first class only). Use promo code 20off at the bottom of the registration form and list in the coupon field.
May 11th-31st Special – PROMO CODE:  15OFF:  15% off September Only Group Dance Classes (first class only). Use promo code 15off at the bottom of the registration form and list in the coupon field.
**NEW ADULT YOGA & HIP HOP HAVE ALSO BEEN ADDED**
Audition for "The Little Mermaid" - 2023 Official Summer Musical!
In a magical kingdom fathoms below, the beautiful young mermaid Ariel longs to leave her ocean home to live in the world above. But first, she'll have to defy her father, King Triton, make a deal with the evil sea witch, Ursula, and convince Prince Eric that she's the girl with the enchanting voice. Adapted from Disney's 2008 Broadway production, Disney's The Little Mermaid JR. features the hit songs such as "Part of Your World," "She's in Love," and the Oscar®-winning "Under the Sea."
Auditions are June 19th in Oak Creek. Callbacks June 20th, 2023. Click below for performance dates and to register!
Competitive DANCE Team Auditions for 2023-2024 Teams:
Auditions will be held the weekend of May 20th & May 21st. Please visit our audition website for additional details. We understand that our Competitive Team information can be overwhelming for 1st time families. If you have questions, please email Miss Alyssa, our Competitive Team Coordinator, at [email protected]. From there, we can address your questions or set up a phone call. Registration cut-off is May 7th so please make sure to register before then. Learn more below!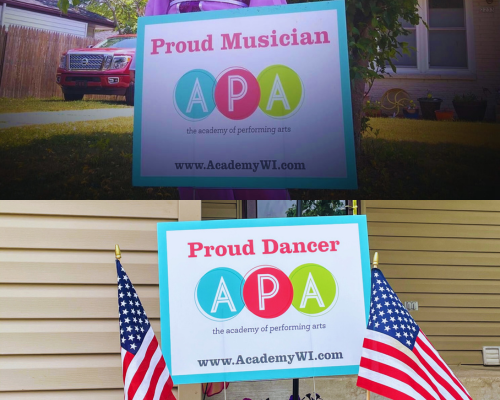 Grab a yard sign from the lobby at either location and place it in your yard, THEN take a photo and share it to your Facebook or Instagram with the hashtag #APAproud! We will pick a random winner each month who will receive a $50 tuition credit. Winners are announced on our social platforms, and we'll contact you on your post! First come, first serve!
Want to see future dates @ APA? Check out our APA Calendar!
Automatic Withdrawals
Automatic withdrawals for tuition will stop after May 15th unless you sign up for our fall session.
Memorial Day Weekend
We will have regular classes through Saturday, May 27th. We will be CLOSED Sunday, May 28th and Monday, May 29th for Memorial Day.
Students that have taken classes at APA for 5, 10, or 15 complete years are eligible to receive a trophy!  If your child has been with us that long, please complete this form before May 15th so that your child will receive their trophy at their dance rehearsal or in their music class!  If you are unsure how long your student has been with APA, you can log on to your parent portal to look at past classes OR email us at [email protected].
Dancer Parent Observation Week: May 8th-13th
We will allow parents to enter the classroom the last 15 minutes of class this week to hear important updates from your teacher and watch students practice their dances.  It will be standing room only and we ask that only 1 parent attends to limit the number of people in the building.  ***If anyone wants to videotape their student's dances, you will do this during the last 15 minutes.
Our music and dance recitals are coming up soon! If your student is missing a lot of classes prior to an upcoming performance, please make sure they are practicing at home. If a student does not know their music piece or dance routine, our teachers may ask that those students do not participate in our shows.
Special Someone Dance Production @ Spring Dance Showcase
This is one of our favorite events to see ON STAGE at our Spring Showcase! This is a FREE event that will replace our daddy/dancer dance. This is for current students performing in our Spring Dance Showcase who want to dance on stage for a special performance with mom, dad, grandma, grandpa etc.  Only one practice will be needed to learn the routine. If you can't make it, we will have a video link for you to learn at home starting in June.  
Students will wear their costumes on stage for the performance.  For the adults that will be performing with their students – we suggest that you wear business casual clothing or jeans and a nice shirt for the performance.   Both locations may attend either practice.
Franklin Practices: Friday, June 2nd
Grades 1st and younger:  5:45-6:30pm (45 minutes)
Grades 2nd and older:  6:30-7pm  (30 minutes)

Oak Creek Practices:   SATURDAY, June 3rd
Grades 1st and younger:   12pm-12:45pm (45 minutes)
Grades 2nd and older:  11:30-12pm  (30 minutes)
Recreational Dress Rehearsals/Class Pictures are set for Tuesday, June 13th through Thursday, June 15th. Our rehearsals will take place at our Oak Creek location at APA.  There are no regular classes this week​ starting Tuesday, June 13th.​ We will have normal classes on Monday, June 12th because we are closed on Memorial Day.
Each class will have a set time block to rehearse with their class and get pictures taken during June 13th-15th.  ***This time will be different from your normal scheduled class time since we have to accommodate so many classes and arrange with our photographer in one location. Please arrive 15 minutes prior to your student's class start time.  
We will have our students come to APA (Oak Creek location) in complete costume with hair and make-up done. This will help our teachers see if there are any costume or shoe issues before our performance.  Times are listed on our Showcase Index next to your dancers' showcase time by visiting our website listed below.
Students will have time to run through their routines a few times and then immediately head to another studio room for their pictures to be professionally taken by School & Sports Pictures.  Please expect this to take 20-35 minutes from the start of your student's class arrival time.  
We will have students arrive at the Oak Creek Performing Arts and Education Center on the day of their showcase time up to 40 minutes early so we can allow classes to view the stage before the show starts.  Grades 2nd and older arrive 40 minutes early and grades 1st and younger arrive 30 minutes early.
Please visit https://academywi.com/spring-dance-performances/ for more details and times. Scroll down to our rehearsal tab.
Showcase 2023 Details
APA loves showcasing our dancers in our annual winter & spring showcases. It is also a memorable moment for our dancers, and helps build confidence while showing family and friends what they have learned throughout the year, and how they have grown. Dancers who are not available or choose not to perform in either showcase are still invited to participate in the class throughout the year.
Our showcases are held at the Oak Creek Performing Arts Center. As details become available, they will be found on our website by visiting https://academywi.com/spring-dance-performances/. This is a ticketed event. 
How will this work? We will have 4 show times on Saturday, June 17th at 9:30am, 12:30pm, 3:30pm & 6:30pm. Each class will be assigned one performance time.  We will have students arrive at the Oak Creek Performing Arts and Education Center on the day of their showcase time up to 40 minutes early so we can allow classes to view the stage before the show starts.  Grades 2nd and older arrive 40 minutes early and grades 1st and younger arrive 30 minutes early.
Shows will run approximately 1 hour and 45 minutes with a short intermission. All classes ages 4 and younger will perform before the intermission and are allowed to leave during the intermission if you feel your student is too young to last the whole show.  
Spring Dance Showcase Ticket Sale Days: Tickets will go on sale on Monday, May 15th at 1pm (central time). To purchase visit https://www.danceticketing.com/29869/.  ***Families who participated in rollover registration in May 2022  will get to purchase tickets one week earlier. Please check your email on 5/4 for instructions and priority codes.
Do you have siblings in different showcases?  Because of the inconvenience, APA will offer families who have siblings in different dance showcase times, 4 free tickets to your second show time. We will put a credit in your APA account for the value of 4 free standard tickets ($52) to deduct off future tuition. APA has over 700 dancers performing with multiple siblings so it is very difficult to schedule all siblings together. We accommodate families first based on the date you registered for our current session. Please email us if your siblings are not in the same show so we can verify and add the credit to your account.
Costume Status:  Costumes will continue to come in up until the end of May or the 1st week of June.  Teachers will hand these out in class as they arrive.  Please have your student try on their costume immediately.  Please remember these are not custom fit costumes.
Back-stage Volunteers:  We will also have a volunteer parent sign-up available for anyone who wants to help chaperone younger students backstage.  Volunteers do not have to purchase a ticket and can watch their child's performance from the side stage. Volunteers must stay for the duration of the entire show and siblings who are not performing are not allowed to be back-stage.  We will send a volunteer email the week of the showcase with final instructions.  Sign-up HERE!
For a full list of details for our Spring Showcase visit:
Text Messaging:
In order to better relay important information to you, specifically for weather-related emergencies, please opt-in to receive text messages. You'll also be the first to know about events and special offers! Text APA to 414-240-8458.
License Plate Winner:
Congrats to license plate 319-VWJ! One of our staff members spotted your APA window sticker while driving!  Please contact the front desk so we know who you are and you will receive a $50 tuition credit.  To participate, grab a FREE APA window sticker at the desk!
Member Accounts:
There is a Member Log-in area on our website www.academywi.com where you can see what your account has been charged, enroll in classes, etc. Every family has their own account.  Your username is the email address you gave us. If you need to update your email address, please contact us.
Facebook & Instagram: Interact with APA on social media!
We have fun contests, photos from classes, and more on both our Facebook and Instagram pages. Click here to join us on Facebook and here to follow us on Instagram!
Referral Program:  
Share us with a friend!  When a new family registers and mentions your name, EACH of you will receive a $50 tuition voucher. The voucher will be mailed out after 2 months of paid enrollment, and there is no limit to the number of families you can refer to APA.