Happy May APA families!! As we near our spring performances and the end of our current session, we are already planning ahead for next year. At the end of every spring session, we send out a survey after all of our performances are over. This is a great way for you to leave us any feedback. We love to hear everything… good, bad, etc. It is great to hear about things you love, so we know to keep doing them, and it is crucial we hear about things you wish we would change. We personally read every survey and share them with our staff. The ultimate goal is to make APA better for our families every year! We appreciate you taking the time to let us know your thoughts.  
We know that many questions pop up at this time of year, so please do not hesitate to call, email, or stop in! If texting is your preferred method, please opt-in by texting "APA" to 414-240-8458. After you have opted in, feel free to text us your questions. We are here to help!
Summer REGISTRATION IS OPEN!
Our preferred method for registration is using your APA portal so you can complete everything in full.  Most of our Summer classes are 6-weeks long, but we also have some 3-day Dance Camp options (select dates in JUNE & July), 4-week Adult Yoga, and "The Little Mermaid Jr." musical. Register early, so there's less chance of your class being full, or canceled due to low enrollment. We will start to cancel classes with low enrollment by mid-June, so make sure to register early as our schedule could change.
Summer EARLY BIRD Savings!
Register for any of our GROUP classes that are at least 6-weeks long and get rewarded! TODAY (May 1st) is the last day to receive our $25 off each group class special.  Register online between May 2nd – May 31st to receive $15 off each group class.   Prices online include our discount when registering through your APA portal.
*Offer is valid for any classes at least 6-weeks long including "The Little Mermaid" musical.
Fall Registration for the 2023-2024 Session is OPEN!
+ *Dance* Priority Registration/September Savings!
Register for our September dance classes early and take advantage of our sales below based upon your registration date.  Our preferred method for registration is using your APA portal so you can complete everything in full.  
May 1st-May 10th Special – PROMO CODE:  20OFF:  Priority seat/ticket selection for our Winter 2023 & Spring 2024 dance showcases (next school year session) & 20% off September Only Group Dance Classes (first class only). Use promo code 20off at the bottom of the registration form and list in the coupon field.
May 11th-31st Special – PROMO CODE:  15OFF:  15% off September Only Group Dance Classes (first class only). Use promo code 15off at the bottom of the registration form and list in the coupon field.
**NEW ADULT YOGA & HIP HOP HAVE ALSO BEEN ADDED**
Audition for "The Little Mermaid" - 2023 Official Summer Musical!
In a magical kingdom fathoms below, the beautiful young mermaid Ariel longs to leave her ocean home to live in the world above. But first, she'll have to defy her father, King Triton, make a deal with the evil sea witch, Ursula, and convince Prince Eric that she's the girl with the enchanting voice. Adapted from Disney's 2008 Broadway production, Disney's The Little Mermaid JR. features the hit songs such as "Part of Your World," "She's in Love," and the Oscar®-winning "Under the Sea."
Auditions are June 19th in Oak Creek. Callbacks June 20th, 2023. Click below for performance dates and to register!
Competitive DANCE Team Auditions for 2023-2024 Teams:
Auditions will be held the weekend of May 20th & May 21st. Please visit our audition website for additional details. We understand that our Competitive Team information can be overwhelming for 1st time families. If you have questions, please email Miss Alyssa, our Competitive Team Coordinator, at [email protected]. From there, we can address your questions or set up a phone call. Registration cut-off is May 7th so please make sure to register before then. Learn more below!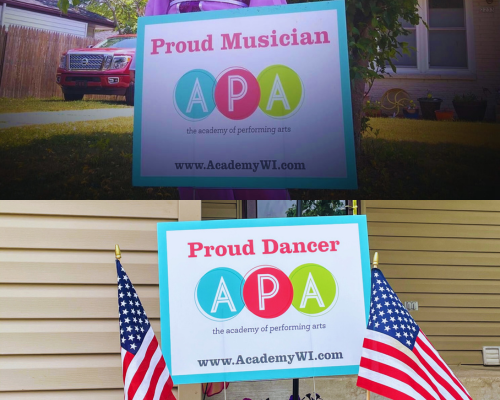 Grab a yard sign from the lobby at either location and place it in your yard, THEN take a photo and share it to your Facebook or Instagram with the hashtag #APAproud! We will pick a random winner each month who will receive a $50 tuition credit. Winners are announced on our social platforms, and we'll contact you on your post! First come, first serve!
Want to see future dates @ APA? Check out our APA Calendar!
Automatic Withdrawals
Automatic withdrawals for tuition will stop after May 15th unless you sign up for our fall session.
Memorial Day Weekend
We will have regular classes through Saturday, May 27th. We will be CLOSED Sunday, May 28th and Monday, May 29th for Memorial Day.
Summer/Fall Music Registration:
Fall registration is open to the public on May 1st.  Time slots are very limited and we have an ongoing waitlist.  IF you opted out of your current music day/time, please make sure to register before we are full.  Music students who did NOT opt out for private music lessons were charged for summer tuition on 4/3 and will be charged for September on 5/1. If you are interested in transferring your summer or fall time slot, please call us at (414) 768-0101 as you are not able to do online transfers through your portal.
On May 15th all private music students will be charged for 1 or 2 June music lessons. Our last music lessons will be on Monday, June 12th.
Some students will have makeup lessons scheduled past this date, so please discuss this directly with your teacher.
Fall Group Music/Theatre Classes:
We are offering several group Music & Theatre classes (Tiny Tunes, Drama Jr, Music Jr, Glee Pop Choir, Musical Theatre, & Drama Club).  For more information on our new group music classes and to register, please click below!
Music Lesson Makeup Policy
Private music lessons follow a different make-up policy than group classes.
Please click HERE to view the makeup policy.
Our music recitals are coming up soon! If your student is missing a lot of classes prior to an upcoming performance, please make sure they are practicing at home. If a student does not know their music piece, our teachers may ask that those students do not participate in our shows.
Upcoming APA Theatre Dept Musicals:
Please click HERE to see all of our upcoming Performances!
-"PUFFS, OR: SEVEN INCREASINGLY EVENTFUL YEARS AT A CERTAIN SCHOOL OF MAGIC AND MAGIC" 
| An APA Drama Club, Spring Session Project!
Puffs tickets will go on sale on Thursday, May 4th at 1pm CT HERE
-ALICE IN WONDERLAND, A MINI-MUSICAL!
Please CLICK HERE to RSVP for this FREE performance on May 24th from 6:30-7:00 pm at Southwood Glen Elementary School and help us know how many people to expect! You can also pre-order flowers to present to APA performers after the show!

Recital Dates: Please note that our spring music recital  will be held on Saturday, June 3rd at the Franklin Saber Center. Our recitals include multiple acts, with each act lasting about 1.5 hours. Exact performance times will be emailed by May 8th, BUT please plan ahead now and keep this date open on your calendars. To make this process a lot easier, we are not accepting time requests. 
Spring Music Recital Ticket Sale Days: Tickets will go on sale on Monday, May 15th at 1pm (central time). To purchase visit https://www.danceticketing.com/29869/.  
Do you have siblings in different recitals?  Because of the inconvenience, APA will offer families who have siblings in different recital acts, 4 free tickets to your second show time. We will put a credit in your APA account for the value of 4 free tickets ($40) to deduct off future tuition. APA has over 250 musicians performing with multiple siblings so it can be difficult to schedule all siblings together. Please email us if your siblings are not in the same show so we can verify and add the credit to your account
Text Messaging:
In order to better relay important information to you, specifically for weather-related emergencies, please opt-in to receive text messages. You'll also be the first to know about events and special offers! Text APA to 414-240-8458.
License Plate Winner:
Congrats to license plate 319-VWJ! One of our staff members spotted your APA window sticker while driving!  Please contact the front desk so we know who you are and you will receive a $50 tuition credit.  To participate, grab a FREE APA window sticker at the desk!
Member Accounts:
There is a Member Log-in area on our website www.academywi.com where you can see what your account has been charged, enroll in classes, etc. Every family has their own account.  Your username is the email address you gave us. If you need to update your email address, please contact us.
Facebook & Instagram: Interact with APA on social media!
We have fun contests, photos from classes, and more on both our Facebook and Instagram pages. Click here to join us on Facebook and here to follow us on Instagram!
Referral Program:  
Share us with a friend!  When a new family registers and mentions your name, EACH of you will receive a $50 tuition voucher. The voucher will be mailed out after 2 months of paid enrollment, and there is no limit to the number of families you can refer to APA.